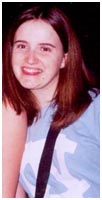 Since you clicked on this page, I take it that you want to learn more about me or you are just bored and were clicking on all the pages. Oh well, you are going to learn about me anyway. You can call me Steph. I'm 18 years old, and my birthday is April 4th. I graduate from the high school world this year, Class of 2002. In the fall, I plan on going to East Carolina University which is located in a small town of Greenville, NC. I absolutely love music. It must have all started when I bought "Middle of Nowhere" by Hanson. I never really knew the kind of music that I liked before then. I just listened to Lisa Loeb, Sophie B Hawkins, Presidents of the USA, TLC, Mariah Carey, etc. Then in 1999, when Hanson had their first "drought," I really began to expand my musical tastes. I like anything that's good. My list of favorite bands is way too long for me to list, and it keeps getting added onto because new musicians emerge from the scene every day. I love unknown bands...it seems like thats the best talent. That's how I came to know Michelle Branch. She and I both posted on the Hanson message boards, and she was doing some shameless self promotion, and I went to go download some of her stuff from Rollingstone.com. I was completely amazed that she was only sixteen years old. I sent her an email complementing her, and we started chatting through IMs when she was online. Now when I see Michelle on TRL, Leno, etc, I can't really believe it. She's still the same person to me, but she's just known all over the world. I'm really happy for her that she's getting to do what she loves. Everytime I hear a new song she wrote, I am still amazed that she is only my age. She really is like an old soul. My favorite song is probably "Goodbye To You."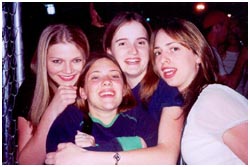 All right...back to me. I love making graphics and websites. I guess its just something I have learned to do ever since I started a dorky Hanson site late in 1997, which is no longer up. I found it hard to really get into a Hanson site because they have really busy periods, and then droughts when they are making an album and there is NO news. Its crazy! I also love taking pictures...I always have a camera with me, especially at concerts. I hope to study in college some sort of Communication Arts, which is graphic design and photography.
If you can't find me for some reason, check at a concert...I'm always going to them, whether is a local show or more a well-known artist. They are just so much fun, and to meet your favorite bands who are nice makes it even better. Besides Michelle & her band, the nicest band I have met is probably Lifehouse and Athenaeum. ;)
Concerts I've Been To:
8/4/01 - G105 Big Shindig, Raleigh NC (Front Row Center)
10/4/01 - Tremont Music Hall, Charlotte NC (Front Row between Michelle & Jim)
5/26/02 - Freedom Weekend Aloft, Anderson SC (Front Row)
6/21/02 - On The Bricks, Atlanta, GA (Front Row Side)

Michelle answered my question! (Hanson.net chat on August 8, 2001)
justincase Asks: "Hey Michelle! I'm getting fed up with this chat, but I'm going to try and ask this one more time: If you could make up the BEST concert in your mind, who would you have perform? - Steph".
--------------------------------------------------------------------------------
Michelle Branch Answers: HEY STEPH! Justin, Nick and Hannah are here with me :) My dream concert would be: Led Zeppelin, Paul McCartney, Incubus (I have a crush on Brandon Boyd), Justincase, and me :) hehe, I need more time to think about that one....