News
Last Updated: March 16, 2002 @ 11:30am EST
*Not Quite News* Michelle is in New York City.
Happy St Patricks Day!!

---
*The Spirit Room* Michelle's album enters the top 50 of the Billboard 200 chart at number 45! way to go!
*Platinum!* "The Spirit Room" has gone platinum in Japan! Congrats, Michelle!
*MichelleBranch.net* Head on over to Michelle's Site to see the brand new layout and a lot of new content!
*TWO new Appearances* March 12th, Michelle will be on "Late World w/ Zach"(VH1) at 11pm. On March 16th, Michelle will be hosting "The Hook-up"(MTV) from 8-10pm.
*MichelleBranch.com* Maverick has relaunched the site! Go check it out!
*Hosting Duties* MTV wants Michelle to host TRL. Date to be announced.. probably sometime in March.
*The Run for #1!* It is complete! "All You Wanted" reached the #1 spot on TRL on Wednesday, February 27th (the same day as the grammys and the day after her tour ended).
*Number One on MTV.com* "All You Wanted" is the #1 most streamed video on Mtv.com this week!
*Hot Shot Debut!* "All You Wanted" debuted at #67 on the Billboard Hot 100. It was the highest debut this week, hence the title 'hot shot debut' :) Congrats, Michelle! Keep on requesting the song at your radio stations, everyone!
*Last Call* Michelle will be on Carson Daly's NBC show, LAST CALL. The taping is on February 18th, and the airdate might be that night if it works like The Tonight Show.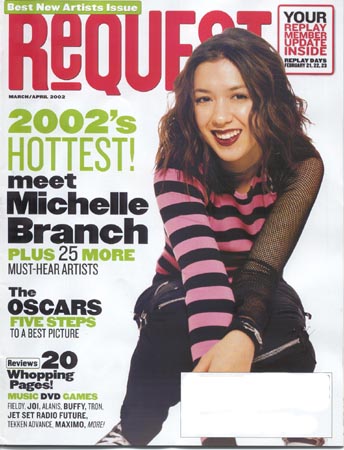 *Her First Cover* That's right! Michelle is on her first magazine cover, Request Magazine. Check out the other two pictures: 1 and 2. The article will be up soon.
*MTV Rotation* Expect to see "All You Wanted" at least 1 or 2 times a day, starting tomorrow, on MTV. And maybe more!
*Debuts on TRL* "All You Wanted" debuted at number 6! Way to go!! Keep up the voting all the way to #1!
*New Contest* on the Play It Forward E-Team.. there is a contest for the most points gathered this week. Grand Prize is a pack of Michelle's Guitar Strings autographed.
*TV Time* Mark your calendars:
1/14 Nickelodeon "Slime Time Live" performance
1/17 Michelle joins Carson to world premiere "All You Wanted" on TRL
1/18 The Tonight Show performance
*Request! Request! Request!* "All You Wanted" is the #1 most added song in Hot/Modern AC! Call your radio station and tell them to play it!
*mb.net & mb.com* michellebranch.net and michellebranch.com are both re-launching soon with all kinds of goodies for the fans. Stay tuned this week(as mentioned by michelle).
*Touring*Michelle is headlining her own tour in February. Tour dates will be announced as they are confirmed!
*Video Premiere* Michelle's new video for "All You Wanted" will premiere on MTV on January 17th.
*Tonight Show* Michelle will be on The Tonight Show again on January 18th.
*Seventeen Issue* Michelle is featured in the February issue of Seventeen magazine with Katie Holmes on the cover.
*All You Wanted* Keep tuning in back to both of the official websites for exciting updates and new features that coinside with the release of her second single, "All You Wanted."
*KIIS FM* Michelle will be a special guest at KIIS FM in Los Angeles on Wednesday, December 19.
*Wanted to see Michelle in Concert?* Now you can!! Just click on this link: Courtsey of Warner Brothers
*YM December Issue* Look for Michelle in the section "on the verge." Justin Timberlake is on the cover.
*Buffy the Vampire Slayer* Michelle will be making an appearance performing "Goodbye To You" on the November 13 episode on UPN.
*Michelle gets GOLD!* "The Spirit Room" has reached Gold in Japan! Congrats, Michelle!
*Rosie Rescheduled* November 8th, Michelle will be on Rosie.
*Rolling Stone* Michelle's album is reviewed in the latest Rolling Stone magazine.
*NEW Single* Michelle's next single will be "All You Wanted" out in January 2002.
*Michelle Overseas* Michelle is heading to Tokyo, Japan on November 16th. She will be in Auckland, NZ on November 26-29.
*Rosie* Mark your calenders! Michelle will be on Rosie on 10/16.
*MTV.com* MTV.com has a special listening party for Michelle's album. Go listen to it before you buy it here.
*TRL* Michelle will be in the TRL studio on Monday, September 24th for the start of the new season of TRL. Make sure you tune in, and request for "Everywhere"!
*Red Rock Review* Michelle's hometown, Sedona, as a review of Michelle on their website. Go read it here.
*andPOP* They conducted an interview with Michelle in Toronto which can be viewed on their website here.
*Tonight Show* Michelle will be performing on "The Tonight Show with Jay Leno" Friday, September 21! Because of this, she will not be playing with Lifehouse in Villanova, PA on that night.
*Everywhere CD Single* Tower Records has this listed for a release on October 2nd. Stay tuned for more details.
*USA Today* Michelle was in the Sept 14th issue of USA Today.
*Chart Watch* See Michelle jump on the Billboard charts this week!!
*Show Cancelled* Due to the tragic events of yesterday, the Chicago concert last night was cancelled. It may be rescheduled later in the tour. Michelle will not be playing in Pontaic, Michigan tonight(9/12) because she does not feel that it is right to put on a show today. She will be back on tour on Friday in Columbia.
*EXCLUSIVE!!!* Michelle's performing at the launch party for the new magazine, Elle Girl. Thanks, Heather, for this info!
*Billboard Hot 100* "Everywhere" moves up 10 spots to #52 after debuting at #62. This chart is based on sales and airplay, so for Michelle it will be solely based on airplay and that is why everyone has been stressing about requesting Michelle at your local radio station.
*VH1 Movie* In the original Vh1 movie, The Way She Moves, you can catch "You Set Me Free" playing. Check local listings for a repeat of the movie.
*Billboard* "The Spirit Room" is steadly climbing the Billboard 200. This week it is at #90, rising 7 spots, with just under 16,000 albums sold.
*Regis And Kelly* Michelle will be preforming on Regis And Kelly on Friday, August 31st. Check your local listings.
*Launch.com!* "Everywhere" debuted at the top of the 100 videos on Launch.com!
*Michelle rocks MP3.com!!* For the second straight day, August 28th(& 27th), both of Michelle's songs, "All You Wanted" and "Everywhere," are at #1 and 2 on the music chart.
*TRL* Did you miss Michelle's appearance on TRL, and you can't wait until Monday morning to see it? Well, you are in luck... Click here to watch it and to see pictures from Michelle's first visit at the TRL studios.
*Tour News!* Michelle is coming to Charlotte with Lifehouse, and The Calling on October 4th at Tremont Music Hall.
*Billboard 200* Michelle's debut album did pretty well for it's first week, considering only 100,000 copies were shipped out. 15,500 were sold letting "The Spirit Room" debut at #97. Expect this number to rise rapidly.
*Rising up* "Everywhere" has debuted at #13 on the Top 20 MTV Music Videos, and is at #35 on Rick Dees after debuting at #40 last week.
*Conan* Did you miss Michelle's performance on Conan O'Brien? Well, then you are in luck. Click here to go watch it.
*Tour News!* Maverick has informed us that the shows with Lifehouse will be All Ages except for one(s) in New York City. More dates to be announced soon!
*Next Single* "All You Wanted" is up on Mp3.com.
*TRL Appearance* Carson informed the viewers today that Michelle would be performing on Total Request Live sometime in the next few weeks, so stay tuned for the date of that appearance.
*Official Site* Michelle's wonderful and talented webmaster as created a new look with a whole lot of new content. Go surf the site!
*EXCLUSIVE!!* The album may come out tomorrow, but now you can listen to the whole thing. Go check out the exclusive listening party here.
*sweptaway.com* Check out a video interview and a few photos from Michelle's performance in Raleigh, NC at the Big Shindig here.
*E-Team TRL Prizes* For Monday: one person will win a random Michelle prize pack- which includes a signed video, signed poster, signed single of "Everywhere" and a personal call from Michelle.
For Tuesday: the Top 20 MTV voters will receive a signed poster.
*Minnesota show* Due to Michelle's appearance on Conan O'Brien, her acoustic show in Minnesota has been cancelled.
*Congrats* Michelle has made her debut to the TRL crowd. On Friday, it was #10, and it will only go higher from here. Congratulations to all of the fans and Michelle!
*Rick Dee's Top 40* "Everywhere" debuts at #40.
*Rick.com* Michelle's interview from RICK DEE'S this morning is now on their website.
*TeenPeople.com* Go see Michelle perform "All You Wanted" and "Everywhere".
*All-Day Chat* michellebranch.cjb.net is hosting an all-day chat for FANS ONLY the day of August 14th, starting at 12midnight.
*TRL Prizes* If you are a member of the e-team, you could win a prize today. The top 20 MTV voters will win an autographed CD, and if Michelle debuts today, then one lucky random winner will win an autographed GUITAR!! Also, Michelle will be calling people before and after TRL voting, so don't let her get the answering machine.
*Featured In* Michelle is featured in the new "Seventeen," "Entertainment Weekly," and "Request" magazines.
*Tour Dates Released* Some tour dates for the Lifehouse tour have been announced, and more to come later.
*A Lucky Fan* Congrats, Ashley, for getting a call from Michelle about being active in TRL voting on the Play It Forward site. You can watch the video of Michelle talking on the phone under "Rewards" on the Play It Forward site. And, you too can win a phone call from Michelle by joining and being active.
*new TRL Attack Day* August 6th, next Monday, is the next Attack TRL day. But keep on voting a lot the rest of this week. We might be surprised and see Michelle debut. August 6th is also when MTV will add Michelle to their playlist. You can catch it now on VH1, who is currently playing the video.
*More TOUR news* Michelle is going on the road with Lifehouse, starting in September. There will be contests for the Play It Forward e-team to win tickets and even to meet Michelle on tour.
*Tower Pulse Magazine* Michelle is featured on page 15 of "Tower Pulse Magazine," which is available for free in all Tower Records Stores. If anyone has this, please e-mail it to me.
*Like.com* Have you been curious what recent CDs, songs, books, and movies Michelle likes.. Well, check out her profile on like.com here
*TOUR NEWS* Michelle is going on tour with LIFEHOUSE and THE CALLING. Stay tuned for tour dates and more information.
*Better Than Erza* Michelle opening for Better Than Ezra on August 7th and 8th in Los Angeles and August 10th in San Fransisco.
*VH1* They will start playing "Everywhere" on Monday, July 30th.

Today, July 22nd, Michelle has bumped her boss, Madonna, out of the top spot on the MP3.com chart. She is also #1 on the Pop and Pop-Rock charts as well. Way to go, Michelle!
*Japan* "The Spirit Room" will be released in Japan on September 19th.
*TRL Wanna-be* 'Everywere' will be shown on TRL as a Wanna-be on Friday, July 27th. Therefore the TRL Attack Day has been postponed to the 27th. Fans should vote for Michelle's video on the 27th and every day after that. MTV will be looking for the response starting Monday after the 27th. Let's show them then!
*MP3.com Charts* Michelle debut at #2 for the Most Listened on MP3.com. Who was at number 1 you ask? The one and only Madonna. Let's get Michelle to take over the number 1 spot now.
*Top 40* 'Everywhere' does not have enough spins to enter the Top 40 chart yet. It's at #3 on the runner-up list. So, make your radio requests at your local Top 40 radio stations.
*On the Charts* 'Everywhere' moves up from #18 to #17 this week on Hot A/C chart with a total of 1231 spins; an increase of 144 spins with new adds from 2 stations. From the spins and trends, looks like Michelle will move up #15 next week.
'Everywhere' is the 8th highest gainer on the chart.
*Hanson.net Chat* Michelle Branch was invited to do a Guest Chat on Hanson.net on Wednesday, August 8th. You must be a member of hanson.net, a fan club of the band Hanson, to participate in the chat at 7:00pm EST.
*It's Accepted!* A very exciting moment for Michelle here.. Her 'Everywhere' video has been accepted for MTV and MTV2. It will start being played on MTV2's PopBox on July 16th(as you see, it should be playing already :) Also, it is possible that it will be on TRL on Friday, July 18th as a TRL Wanna-be. That will be confirmed as soon as possible.
*Nick Video Picks* The 'Everywhere' video will air "Nick Video Picks" on July 25th. It will be a 30 second clip, and it is up to the fans to vote on-line for the night's winner.
*Unlisted Tour* Michelle will be touring the eleven Big Ten schools in the Midwest, consisting of colleges in Illinois, Indiana, Iowa, Michigan, Minnesota, Ohio, Pennsylvania, and Wisconsin. The tour is sponsored by Kenneth Cole and is named after his new "Unlisted" brand. Michelle will be featured in his advertising campaign for the brand. Tour dates and more information coming soon.
*Twist Magazine* This month's issue has a glowing review of the album, and see Michelle's first cover photo, kind of. Pick it up today!
*MTV* Get ready for 'Everywhere' to make it's debut on MTV very soon! So boot up your computer, and log on to Mtv.com, and get ready to vote for it on TRL.

*A Big Hit! As you know, last week Michelle's song, 'Everywhere' was the number 1 most added pop song on the mainstream. This week, it is the #3 most discovered (biggest increase in audience) on mainstream radio. She is also still at number 1 for the most added pop song(53 stations) for the 2nd straight week. Congratulations, Michelle!!
*Single News!* 'Everywhere' will be featured in the movie, American Pie 2, but it will not be on the soundtrack. It will also be on an upcoming episode of Dawson's Creek.
*TRL Attack Day* Mark your calenders! The TRL Attack Days has been set. Vote for "Everywhere" online and by phone on Tuesday, July 24 and Wednesday, July 25.
*New E-Team Contest* Prizes for the membership drive have been sent out – check your mail!!! The next Mission is to boost airplay of "Everywhere". Call your local station and request "Everywhere" now! The prize for Mission Two is an autographed copy of Michelle's video for "Everywhere'. This is a Limited edition VHS of her first video. The video comes in a specially designed case! Check the rewards window for the mission prize and details!
*AOL Video Premiere* If your part of the E-team, you've already seen the video! On July 20th the rest of the world will get their chance to log on and see it too! AOL will present the official on-line premiere for the video for 'Everywhere'. Stay tuned for more details on this special promotion!
*TWIST* In the latest issue of Twist magazine(with Jessica Simpson on the cover), they talk about Michelle and her debut album.
*radio airplay* 'Everywhere' is shaping up to be Maverick's biggest Top 40 hit (excluding Madonna) since Alanis' "Thank You." In addition, this is perhaps Maverick's biggest airplay debut for a new artist since its inception.
*The Kelly Lounge* Listen to Michelle play "All You Wanted," "Stewert's Coat," and "Everywhere" from Friday, July 6th inside the Kelly Lounge(KLLY 95.3). Just click here to go and listen.
*Most Added Pop Song* According to HITS magazine, "Everywhere" is the most added song in pop radio. It was added to over 74 radio stations last week. Call up and request it at your local station. Way to go, Michelle!
*Vote!* the 'everywhere' video will be on "Nick Video Picks" for the week of July 23rd, so make sure you go vote for it on Nick.com. Also, catch the video on "California Summer Countdown" on July 28 & 29 on the Fox Family Channel.
*Everywhere I-Squad Premiere* The exclusive video premiere was a success, and members are raving about the video. You can still join the team, and watch the video.
*July 10th* Make sure you have joined the E-team because only those members will be able to see Michelle's music video first on Tuesday, July 10th at 7pm.
*MTV/video premiere* They have just received the "Everywhere" video last week, so should start playing it shortly. But in the meantime, join the E-team so you can see the video before anyone else on July 9th. Make sure you check the message of the day for the time of the premiere.
*the E-team* Go join Michelle's official Play It Forward E-Team, so it can reach 300 members, so there will be a chance to win stuff and maybe even a chance to meet Michelle on the road. Just click here!

GetMusic.com Go listen to Michelle talk about her music, how she got discovered, and more. Along with performing three songs, "Everywhere," "Goodbye to You" and "All You Wanted." Just click here!
*Interview & Contest* Go read a great Michelle Branch interview and enter the contest for an advanced copy & cover art at springolo.com.


*Chicago videos* Michelle's webmaster has put up one of three videos from the Chicago concert. This first one is of the song "All You Wanted."
*Nick.com* Check out two live performances of "Everywhere" and "Goodbye To You" in SoundScoop.
*NEW tracks* If you go to Maverick Records, you can listen to four more tracks of Michelle's album. "You Get Me," "All You Wanted," "You Set Me Free," and "Something to Sleep To."
*Everywhere video* So the music video won't be on MTV for about a month, but if you are a part of the On-line team at michellebranch.com then you can be the first ones to see the awesome music video. Word from Michelle is.. there is a very hot guy model in the video.
*Michelle sighting* June 17th, Michelle was traveling through Charlotte, NC (where she met up with the band & friends, justincase) on her way up to Boston for her show on the 18th.
*official online team* Now you can help spread the word about Michelle and her new single through her official online team, located on Maverick's webiste. You can also get a chance to win some cool stuff in reward of telling your friends about Michelle.
*on the radio* "Everywhere" has been officially released for the radio. Call up your local station and request it!
*album release date* Yet again, the release date for "The Spirit Room" is pushed back to August 14th, but this is the real date now. Also, there will be no single in the stores.
*preview video* Maverick Records has put up a preview of the album, and Michelle talking about it on their site, michellebranch.com. Go watch it and learn the story behind the title, and hear a couple of samplings from songs.
*California Summer Countdown* This Saturday, June 9th, Michelle is taping the show "California Summer Countdown" in Hermosa Beach, CA. She will be interviewed and will play "Everywhere" acoustically. It will air on the Fox Family Channel on June 16th in the morning.
*Contest* Enter a contest to see Michelle open up for Evan & Jaron here at efanguide.com
*Promotional Tour* Michelle is going out in June on her promotional tour.. Check out the dates here.
*Kenneth Cole* Michelle is featured at fashionavenue.com for her deal with designer, Kenneth Cole.
*Jupiterindex.com* Jupiter Index has recently interviewed Michelle. Go to "Emerging Music" to read it.
*new songs* Some new songs to look forward to hear from Michelle on her debut album, THE SPIRIT ROOM, are "Everywhere" (the first single), "You Get Me," "Something To Sleep To," and "Here With Me." Along with "Goodbye To You" from her independent record.
*Video* Michelle will be filming her music video on May 31st and June 1st
*Dates moved* Michelle's single is now coming out on June 12th, and her album is set for release on July 17th. Make sure you mark down those dates on your calender.
*evan & jaron* Michelle is opening up for them at two shows in California.
*Maverick's site* Maverick Records now has their website on Michelle up at michellebranch.com or maverick.com/michellebranch. There will be clips from the album up there, as well as notes from Michelle, and lots of other exciting things.
*the video* Michelle will be in L.A. next week to film her video for "Everywhere." More news on it later.
*Radio* Be listening on your local radio stations, to see if they are playing Michelle's single, "Everywhere." Call them up and request.
*All Access* On allaccess.com, you can download Michelle's new single, "Everywhere [to me]" under COOL NEW MUSIC. You have to register for free first before you download it.
*the Single and Album* Get ready for Michelle's single, "Everywhere," to be released on June 5th. Her debut album, "The Spirit Room," will be hitting stores on July 10th.
*Messages from Michelle* Make sure you check into her website every once in awhile to see what's up from her in the "Studio" section. Also, go sign up on the mailing list to receive e-mails from Michelle, herself, about what she is up to.
*MichelleBranch.net* Michelle's new website,michellebranch.net, is finally up, and look for new audio, pictures, video, and journals from the studio. Michellebranch.com will still be there, and it will be run by Maverick Records, so look for some cool stuff to be there as well.
*the recording process* Everything went super well in the studio, and her album is now in the mixing stage. Look for it to hit store shelves this summer!