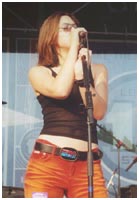 This was the first time I got to see Michelle perform live. I was very anxious because I had been listening to her music since the beginning of 2000, and she was finally coming over here to North Carolina. My friends and I made the trip up to Raleigh from Charlotte with my mom. The first band we saw was Revelation Darling, a band from Raleigh, and they were awesome. We were like the only ones to stand in front of the stage for them. After they played, we walked around and went to our seats to watch Weekend Excursion play on the main stage. They are another NC band and really good! After they played, we went to the G105 table where Weekend Excursion was going to be, and we handed out some justincase flyers while we stood around and talked to some people in line. When the line got shorter, we got on it to say hello to the guys. Then we made our way back over to the side stage. Wil Seabrook(now a Maverick artist too) and Trickside played before Michelle.
We were just walking around during Trickside(i think) and guess who came walking up to us? None other than Michelle! She is such a sweetheart. She came up and hugged us all. I'm so glad I finally got to meet her. She had to go, but we would talk to her later. We got front row for her set :) and we watched the people set up her blue Taylor and all of the other instruments for her band. She played for like 40-45 minutes I guess. A june bug landed on her KISS belt buckle in the middle of the performance, and she was the only act of the day that was getting dollar bills thrown at her. She even mentioned the great band, justincase...not that big of a surprise. After the show, we went around to the side of the stage, and she came over to sign autographs and take pictures. First, we talked to Jon Button & Jim, and got a picture taken with them, and then her drummer, Dave, came out and we talked to him. Michelle made her way over to us, and she signed my Broken Bracelet cd. We also took pictures with her. After we were talking for a while, Michelle had to go do some other things. We watched Dexter Freebish play next, and they were awesome.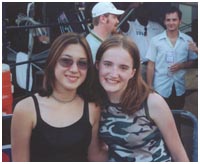 They did an autograph signing at the merch table, and we stood out of line, taking pictures until the line got shorter and then we got their autographs and took a group picture of the band. Evan & Jaron were due to go on next, and we couldn't get good spots. We spent the time before their set talking to David of Trickside, and Chris of Dexter Freebish. They were really nice. Evan & Jaron were late because they are Orthodox Jews, and Saturday is their Sabbath. Before they went on, Michelle came back and me & her got to chatting about what she was doing. And you know what? She even snuck us backstage underneath the tent so we could watch Evan & Jaron. That was so sweet of her. This guy helped her out. The fence wasn't a realy fence and we easily slipped through. So we stood back there watching Evan & Jaron...it was nice. Michelle left to go to the other stage, but said she'd be back. So we just kinda stood there, trying to fit in. Chris from Dexter Freebish came to join us after Evan & Jaron was done playing, so we weren't alone anymore. Michelle came back, and gave me & my friend, Eva, advanced copies of "The Spirit Room." Again, she's so down to earth, lol. Evan & Jaron finished signing autographs, and one by one came over to their "little sister" Michelle. She introduced us. They are pretty nice too. Michelle even asked if we wanted to stay in her hotel room with her because all of the artists were having one big party in the hotel lobby, but we had to drive back to Charlotte. :( oh well. I'll always remember that day.
Here's pictures from the radio station, G105 out of Raleigh.
A Fan Picture from a Raleigh news station.. Ironically, thats me and my friends. We are also in the crowd picture during Michelle's show(in that one, I'm taking a picture lol).
These are MY pictures that I took myself. Please email me and just ASK if you would like to use them on your website. I stood in the VERY hot & humid weather to take them.

These pictures were taken by my friend, Stephanie (radiance423@hotmail.com).. again, please do not take these pictures.